What happens if my energy supplier goes out of business?
Posted on 28th Sep 2021 at 12:09 PM from Coventry, UK
Listening to Oasis :: Wonderwall
There has been much talk lately about energy companies and prices. This is due to a sharp increase in prices and several smaller suppliers going out of business. It all comes down to the price cap.

What is the price cap?

OFGEM are the regulator of domestic gas and electricity in the UK. They set the maximum price a supplier can charge for a "typical household". This maximum is the "price cap". The price cap is not the most you will pay. If you use twice the typical amount of energy, you will pay twice the cap.

Why is it increasing?

The price cap gets set twice each year in February and August. These changes take effect from 1st April and 1st October. The cap reflects the wholesale price of energy. That is, the price the suppliers pay for gas and electricity.

This has led to seven smaller suppliers going out of business this year. More are likely to follow in the next weeks and months.

Why are suppliers going out of business?

In the wake of the Pesky Pandemic and other factors, global energy costs have risen sharply. In some cases, this has meant suppliers are paying more for energy than they can charge customers. Smaller suppliers do not have the reserves to deal with this. They cannot pay their suppliers and go bankrupt.

There has been a sharp rise in the wholesale price since the price cap increase in August. This means that the future is uncertain for more suppliers. Although the cap will go up on 1st October to £1,277, this rise was decided before the recent price spike.

Given the current high wholesale prices, it is pretty likely that the cap will go up again next April. Perhaps quite a lot. Especially if wholesale prices continue to increase.

What happens when a supplier goes out of business?

If your supplier goes out of business, don't panic. You will still get a supply of gas and electricity. There will be no interruption to your supply.

OFGEM will step in and move you to what they call a "supplier of last resort". You do not have any choice who this is. Most customers of the failed suppliers so far have been moved to EDF or British Gas. It is important that you do not try to switch supplier whilst this move is taking place.

You should take meter readings as soon as your supplier goes out of business. Keep them safe - your new supplier will need them. It is likely to be several weeks before the new supplier contacts you. Don't worry, you will continue getting your energy.

The new supplier will put you on their Standard Variable Tariff (SVT). This is very unlikely to be their cheapest tariff. You now have three choices:


do nothing and pay excessively


switch to the supplier's best tariff and pay a bit too much


change supplier and get a better deal
Could bigger energy companies go out of business?

Yes. It is possible that even the biggest energy companies could fail. But it is extremely unlikely. The UK's biggest seven companies all have plenty of reserves to stand the losses. They also all generate revenue from sources besides domestic energy sales.

What is the best option?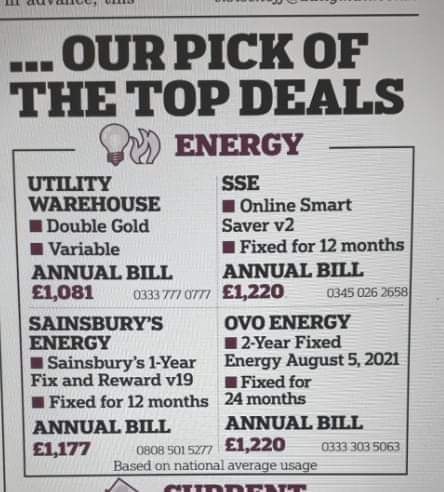 It makes sense to switch to a fixed tariff as prices are likely to increase. The longer the fixed period the better.

Recently, The Mail carried out research into the lowest price energy provider. This was for after the cap rises on 1st October. They found that Utility Warehouse was the best value. This was before other benefits and discounts offered by Utility Warehouse were considered. Utility Warehouse have a fixed tariff until October 2022.

The energy market can be complex and difficult to understand. If you would like help, feel free to contact me and we can chat through getting you the best deal.

The Magic of 3 Weeks.

Most people have a few bad habits that don't always serve them or help them achieve and everyone knows how difficult it is to change.

Ian has outlined a simple and effective way to replace bad habits with good success habits which will help those that follow it achieve their goals.
- Chris Williams


You must be logged in to comment and have your say.
Registration is free, quick and simple

Registration is free and secure.

I take your privacy seriously and will never sell your details
niether will I share your details with any other organisation.