Hi, I'm Ian Boddison and perhaps the most important thing you should know about me is that I consider myself successful. I am happy with my life! By "successful" I don't mean that I have lots and lots of money but that I am in control of where my life is going rather than letting life push me around. I know where I'm going and everyday I get a little closer to my chosen destination.
I live in Warwick, UK and work from home running two successful businesses... yes, I'm an entrepreneur! But more importantly I also care for my elderly mother which is pretty much a full-time occupation in itself...
If you want more information about my businesses there are links at the bottom.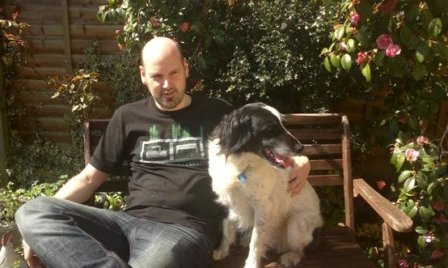 Something that is very precious to me is spending quality time with my family. Especially my mother and Patch my Spollie (Spaniel cross Collie). Above is me and Patch enjoying some sunshine in my mother's garden in April 2012.
This site and especially the blog, is a collection of my own observations and opinions. It is a space for me record my feelings on business, people, life and the world in general. It came into existence following several people asking me about business and how I live a life of contentment. If you find any of my thoughts and opinions helpful then excellent but if you don't then worry not, I won't be losing any sleep over it!
I set aside time every day to plan life, to dream dreams and to set goals. I value my thinking time and my planning time and I always consider it to be time well spent.....thinking and planning is vastly under-rated.
Every great dream begins with a dreamer. Always remember, you have within you the strength, the patience, and the passion to reach for the stars to change the world.
- Harriet Tubman
Enjoy your visit to a little bit of my world!