What to celebrate
Posted on 24th Dec 2012 at 10:29 PM from Shoples HQ, Manchester
Listening to Bee Gees :: Spicks & Specks
Earlier today I delivered what I hope will be the last Christmas card except one for a friend I'll see tomorrow. I went to the corner shop to buy bread and milk and thought I'd take a card to the owner. I handed it to him at the checkout and there was a complete look of pleasant surprise on his face. You see he is a Muslim and as such doesn't celebrate Christmas...but niether do I because I am an athiest and don't believe in any god.

I had carefully chosen a card to make sure there were no christian symbols on it. But I always do that when selecting cards to purchase. But as I walked back from the shop it set me thinking about what Christmas means to me beyond a national holiday.

Firstly although I am in no way a christian, I certainly would align myself to much of the outward christian ethos. Especially the Christmas principle of 'goodwill to all men'. Also, like most people, Christmas and New Year are intrinsically linked in my thoughts. Although they are totally separate festivals, being just a week apart causes them to merge somewhat. For this reason Christmas and New Year are a great time for reflection over the past year and consideration of the year to come...and with two festival's worth of holiday it is easy to find the time.

Of course Christmas is a great time to meet up with family and friends and this gives opportunity to rekindle and strengthen relationships. Over the past few years I have given out very few cards, instead giving a donation to a local animal home. But to be honest this has been a justification for laziness so this year I decided to send out lots of cards and to include information to help people keep in touch...it has been a deliberate move to use the opportunity of Christmas to nurture friendships.

Reflecting on the past year that has been a massive realisation, that friendships at whatever level are an important part of life; perhaps the most important part of life. Having taken the opportunity to start the process I shall be following up those friendships during the festive period and into the new year.
The Magic of 3 Weeks.

Most people have a few bad habits that don't always serve them or help them achieve and everyone knows how difficult it is to change.

Ian has outlined a simple and effective way to replace bad habits with good success habits which will help those that follow it achieve their goals.
- Chris Williams


You must be logged in to comment and have your say.
Registration is free, quick and simple

Registration is free and secure.

I take your privacy seriously and will never sell your details
niether will I share your details with any other organisation.
If you want to build a mansion — start with the library and build it book by book
- Darren Hardy
I'm currently
reading: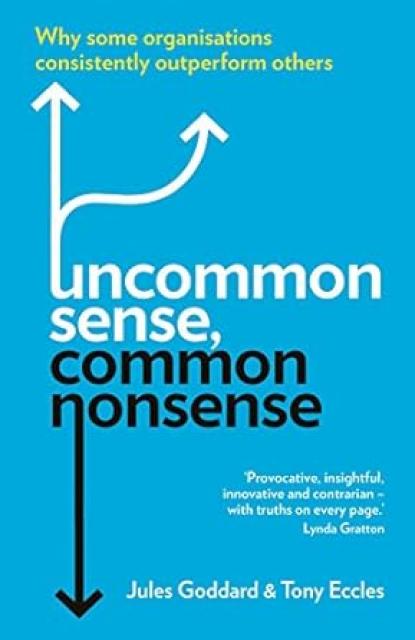 Uncommon Sense, Common Nonsense
Jules Goddard & Tony Eccles