Woodburning Stove
Posted on 18th Nov 2012 at 12:58 PM from Shoples HQ, Manchester
Listening to VNV Nation :: Space and Time
Today I am really, really happy because I have accomplished another goal in the past week. My woodburning stove that has for too long been a large ornament is finally working.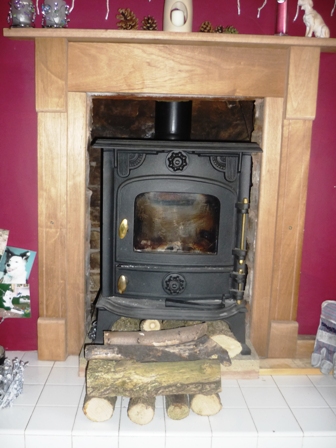 For a while now I have written on my daily goal list 'My woodburning stove is fitted and working by October 2012' which, like all goal setting, keeps in right in the front of my mind.

I am in no way a builder so opening up the fireplace, building the fire surround and installing a flat slab for it to sit on was a major job for me and one that I would have put off and put off indefinitely had it not been for regular goal reinforcement. The one part I could not do was to fit to chimney pot as I do not do heights! So I had to get a builder in to do that part of the job.

I had tried and tried to find a builder that could do this for me. Then one morning I woke up realising that I knew a man who used fit fireplaces and that he would surely be able to recommend someone. He did - and soon the chimney was fitted. I don't know why I didn't think of it sooner but sometimes that is just how the subconscious mind works. And it works well to produce results when it is given regular goals to work on.

So last night was the first time we really used the stove. Les, myself and PatchDog all spend some nice time together watching the flames. There is something about a real fire that draws ones eyes to it.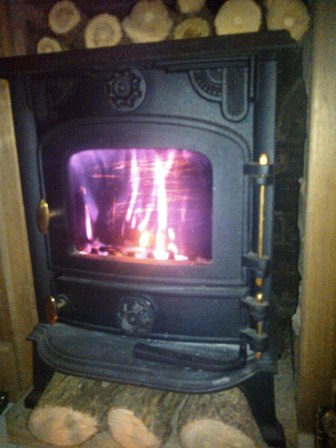 Les took a picture of the stove burning wood on her phone...don't worry though, the logs are no longer on top like they were when the picture was taken as we have been warned that is not a good idea!

So now that goal has been transferred to me achievement list and I have started working consistently on my next set of goals.
The Magic of 3 Weeks.

Most people have a few bad habits that don't always serve them or help them achieve and everyone knows how difficult it is to change.

Ian has outlined a simple and effective way to replace bad habits with good success habits which will help those that follow it achieve their goals.
- Chris Williams


You must be logged in to comment and have your say.
Registration is free, quick and simple

Registration is free and secure.

I take your privacy seriously and will never sell your details
niether will I share your details with any other organisation.